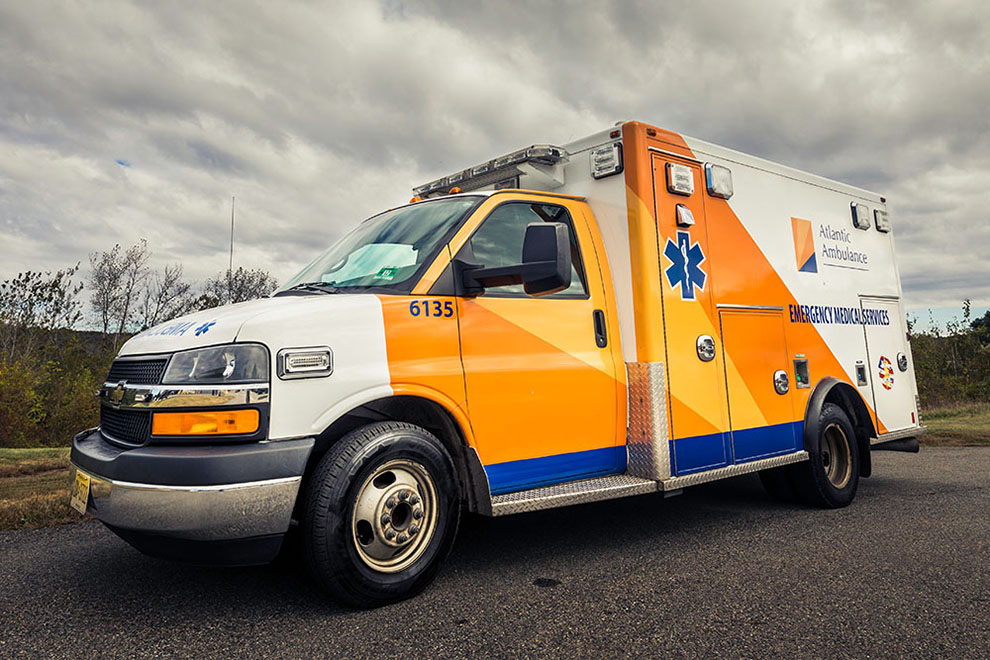 The Atlantic Mobile Health Emergency Medical Services EMTs are a highly skilled group of individuals trained to respond to a wide range of medical and traumatic emergencies. The Atlantic EMS division is proud to work in conjunction with police departments, fire departments, and local EMS agencies to provide rapid emergency response, initial patient treatment/ stabilization, and transportation to the most appropriate hospital.
Atlantic Mobile Health EMTs are trained and receive frequent educational offerings and yearly competency evaluations. EMTs are required to complete a minimum of 180 hours of didactic and practical training, as well as an additional 10-hours of clinical time in a busy emergency room or on an active Mobile Intensive Care Unit (MICU).
EMTs are trained to assess and manage a variety of basic and potentially
life-threatening

conditions. They provide basic life support, assist patients with their medications, and administer a limited number of medications.
Some of the skills/ procedures include but are not

limited to:
Splinting/bandaging
Immobilization, C-Spine precautions

(when needed)

Automated external defibrillator
Lifting/moving equipment
CPAP
Oxygen therapy
Administer aspirin for chest pain
Epinephrine autoinjector (allergic reaction)
Nasal Narcan atomizer (specific drug overdose)
Assist with patient medications (nitroglycerine, rescue inhaler or nebulizer)
Atlantic Mobile Health operates EMS teams on a variety of different days and schedules depending on the needs of a specific town or contract. We are proud to work alongside the local first aid squads, fire departments, and police departments in the communities we serve, working as a cohesive team to provide the best possible
patient care.
The following is a list of towns in which we serve and/or provide primary EMS response:
Roxbury Township
Mount Olive Township
Morristown Town
East Hanover Township
Fairfield Township
Warren Township
Watchung Borough
Mountainside Borough
Pequannock Township
Mine Hill Township
Rockaway Borough
Chester Township/Borough
Bernards Township